The Alusett Top Deck Double Decker Exhibit System: A Simple And Cost Effective Solution To Double Your Visibility And Impact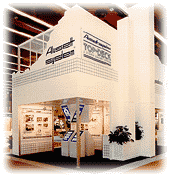 Topdeck Double Decker exhibit system rounds out the versatility of Alusett's product line. Fully compatible with all other Alusett modular systems, Topdeck affords designers and builders the option of incorporating a second floor into their exhibits at an affordable price without special engineering know-how.
Topdeck Double Decker is a grid system made of light-weight aluminum that provides extremely sturdy construction which can support weight beyond most load requirements. Stress and loading specifications are pre-calculated. Assembly is easy and logical. For example, the components for a second floor design can be handled without a forklift.
Topdeck complies with the stringent California Construction Code and is approved by TUV, Germany's official control agency for technical products.
Benefits:
Get more impact for your floor rental dollars
Gain valuable visibility on the show floor
Display additional products without additional floor space
Offer customers a conference room
Save on shipping and drayage costs
No need for riggers or forklifts during installation or dismantle
Use carpenter show labor with ladders
Topdeck Two Story System is typically used in these applications:
Free Two Story Double Decker Catalog:

Make sure you download the Two Story Exhibit catalog by clicking the "download" button right below.

Free Quick Quote:

Click the link below and fill out your info for a free quick quote for your own two story exhibit system.
Here's another video showing why so many exhibit builders prefer and use the Alusett Top Deck System over others: