Octagonal Soft Line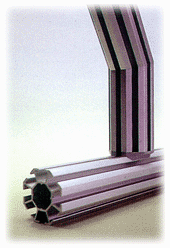 Those familiar with Alusett are familiar with our Octagonal Soft Line system. This system with the Alusett "hammer head" connector has a proven record of performance – in use since 1968 without need for modification.
Alusett is available in a wide range of standard sizes. It is possible to achieve a variety of forms and shapes using standard size material.
The core of the matter is the Alusett component profile – precision-made and heavier walled than other modular extruded systems.
For visual appeal, Alusett Octagonal Soft Line is the choice for smoothly contoured lines and a clearly contemporary mood. Octagonal Soft Line components are available in a matte clear anodized aluminum finish. For extra design flair, other anodized finishes and custom color matches are readily available.
Octagonal Soft Line is typically used in these applications:
Contact us for a free quote by clicking the link below and filling out your information:
August 11th, 2022