Structure System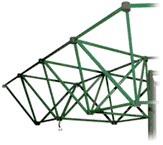 Design
Oval shape with consistent diameter.
Technique
Over and over proven Alusett Connection Technique: stable and easy to assemble
Compatibility
Fully compatible with all Alusett Systems: Standard/Classic Line, Octagonal Soft Line, Metroline, and Top Deck System
Variability
A series of two modular dimensions: 700 mm and 990 mm center to center. Special sizes and special angles (for example: 15 degrees for flat structures) are also possible
Colors
Standard finish is a matte clear anodized aluminum.
Specialty colors:
150 RAL colors, powder coated, on short delivery
Structure System is typically used in these applications:
Contact us for a free quote by clicking the link below and filling out your information:
Click here and fill in your info for a Quick Free Quote
August 11th, 2022