Why Choose An Alusett Trade Show Display System?
Alusett offers designers and exhibitors greater versatility at a lower cost.
Our multi-function components, wide array of color choices, ability to incorporate a variety of materials, and special construction capabilities allow you unlimited flexibility in design and construction in your display systems — from a system look to a combination system and custom look, or a completely specialized design.
An exhibit can be re-configured with the same components for varying floor spaces and shows.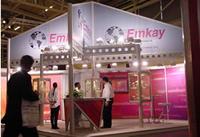 The value of Alusett systems is in their outstanding strength and durability, leading to longer life. Multi-function components and lighter weight reduce costs for construction, packaging, shipping, drayage, and storage.
Installation and dismantling are fast and easy, too.
Alusett's modular systems are versatile enough to work in any environment, for small exhibitors, retailers, or large corporations, in portable or permanent settings.
And the lower costs allow exhibitors to expand their marketing efforts to more shows, reaching a greater number of customers using the Alusett displays systems.
August 11th, 2022